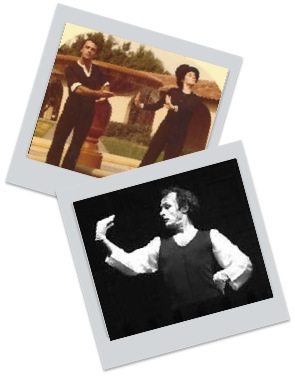 Welcome to the world of BiLi the Mime, professional mime located in Northern California. Follow BiLi and take a tour in the world of magic and illusion, learn more about BiLi's workshops and performances!
Once upon a mime...
In 1976 BiLi took his first classes in Mime in Palo Alto, California, with Mime instructor and performer Stella Bensadon, former disciple of Marcel Marceau and Etienne Decroux. He took classes during two years on traditional Mime techniques and skit improvisation. In 1977, BiLi joined a Mime troupe called Pianomime which was composed of seven Mimes and which performed with live piano music.
Occasionally BiLi uses Balinese and Venetian masks in his performances. They are unique pieces individually handcrafted by masters mask-makers in the island of Bali (Indonesia). 1980, BiLi went to the Leonard Pitt School of Mime at Berkeley, California to study the use of masks in Mime. 
BiLi has developed and strengthened traditional Mime techniques to conceive and perform skits that became part of his one-man show which he performs mainly in theaters (theater Mime as opposed to street Mime). The performances are geared to the whole family (unlike those of Billy the Mime who should not be confused with BiLi).
Over the years, BiLi has developed the following Repertoire.
BiLi teaches classes and workshops for adults and children. His teaching is conducted in 5 languages (English, French, Italian, Portuguese, and Spanish) which he speaks and writes fluently. As an extension to the art of Mime, BiLi has developed and facilitates seminars on Non-Verbal Communication for executives who wish to improve the effectiveness of their delivery. For more information: https://continuingstudies.stanford.edu/courses/course.php?cid=20121_WSP+75