San Jose Mercury News
May 13, 2004
HOLDING COURT WITH GESTURES
By Kim Vo
Mercury News
Palo Alto resident Jeff Cabili widens his eyes and drops his jaw.
No need for words here. He's clearly trying to convey the sense of awe and wonder he's elicited from audiences throughout the Peninsula. Cabili is a mime, and when he wants to communicate, there's no need for sound."One thing I like about mime is the universality, the international aspect,'' said Cabili. "You don't have language barriers.'' A man climbing an imaginary ladder or trapped in an invisible box needs no translation. The story is told through upturned palms, bent knees and carefully angled mouths and brows.
That is part of the genius of mime, said Cabili, who adopted the stage name BiLi. He has steadily honed his craft since he began in the 1970s, holding one-man shows and leading workshops in Palo Alto schools. His drive is not just to perform, but to rekindle enthusiasm that once existed for the art form.
"Twenty years ago, Americans were attracted to mime, good mimes,'' said Cabili, 54. In the mid-1980s, though, we "saw a lot of people in the street with white faces and doing statue. It's great to stand in the street for eight hours, but that isn't mime.''
Cabili grew up in France, the home of mime masters such as Etienne Decroux and Marcel Marceau. He believes reviving mime in America -- where it is often derided -- is possible.
Palo Alto's Gunn High School students were among those impressed with the art form when Cabili recently held a seminar there, said drama teacher James Shelby. "Kids really recognize authenticity,'' Shelby said. "They know when they're being given something not genuine and they knew immediately he was the real deal.'' Shelby recruited Cabili to hold a mime seminar for the high school's drama students. The class has "brainy, intense kids and they really settle into their heads and forget they have bodies,'' Shelby said. "It's really excellent to bring that out.''
Cabili stumbled into mime. He said he was 26 years old and walking across the Stanford campus when he saw a flier that "changed my life.'' The flier advertised a mime class. Cabili attended but wasn't initially sold.
"I felt very self-conscious, so I didn't participate,'' he recalled. "I said, `Gee, I don't want to make a fool of myself.' There were people gesturing in the air.''
His mother persuaded him to return. He kept going, encouraged when a teacher told him he was learning very fast.
Not surprisingly, Cabili is an expressive talker, one that relies on his body, his face and his voice to weave a story, even during an interview. He recounted how he joined a piano mime troupe and later developed a one-man show. He did this between marrying and starting a family -- he has a wife, Nathalie, and two children, Enzo and Flora -- and living in Palo Alto, France, Puerto Rico and Italy, and holding high-tech marketing jobs to pay the bills, though he's currently out of work.
In addition, Cabili has offered workshops at Peninsula schools, including Terman Middle and Briones School, in addition to Gunn.
He's also given benefit performances like a recent sold-out show at Cubberley Theater, for his son's school, Jane Lathrop Stanford Middle School in Palo Alto. The show earned Cabili his first standing ovation.
Enzo Cabili, 12, admits his dad's shows put Enzo on edge."Sometimes, I'm kind of nervous because if he messes up I'm embarrassed,'' Enzo said. "But he's never done it. He always does awesome.'' " When he's walking in mime, it really looks like he's walking. When he's climbing, he really looks like he's climbing stairs,'' Enzo said. "It just looks really cool.''
---
Contact Kim Vo at kvo@mercurynews.com or (650) 688-7571.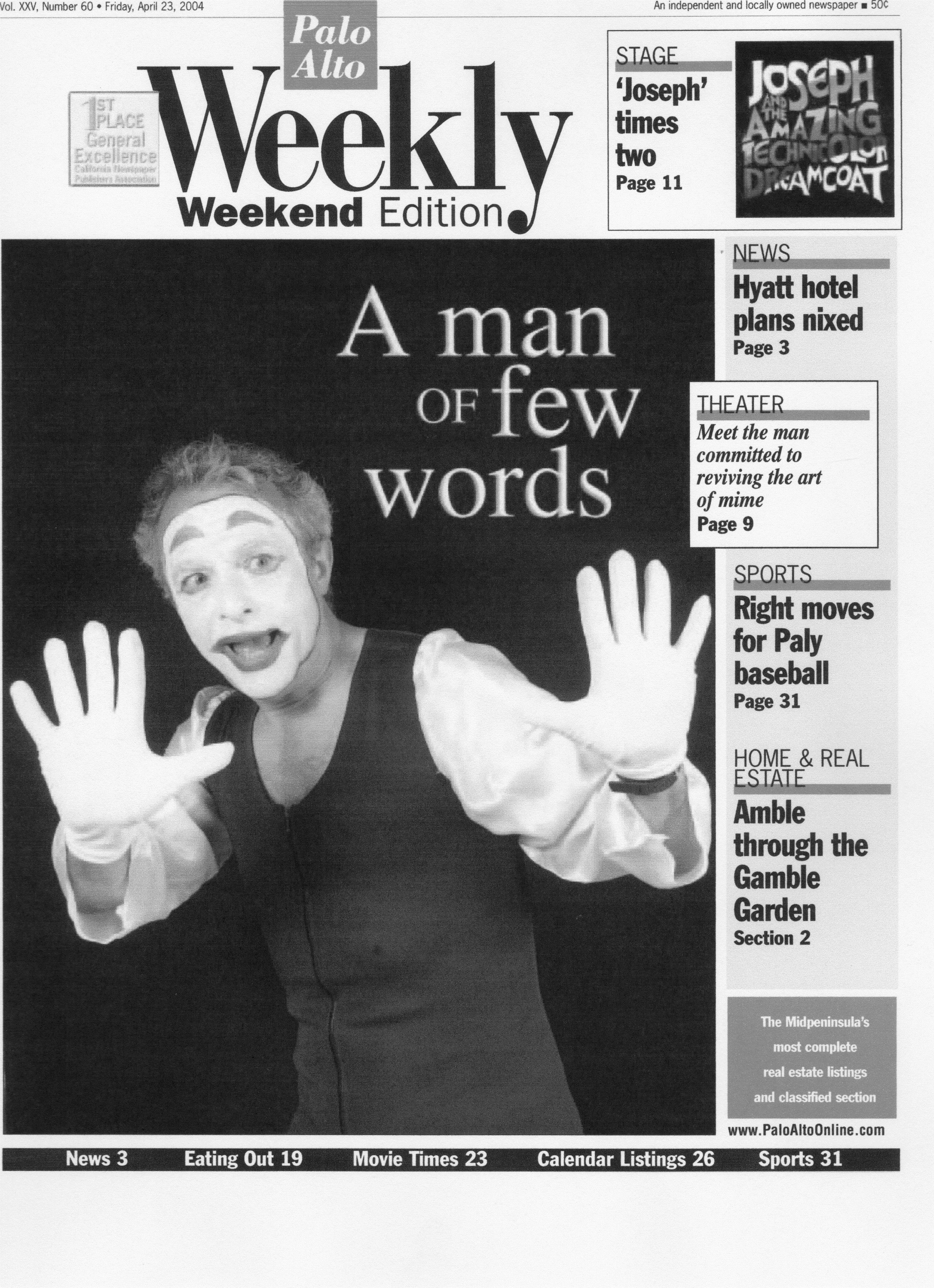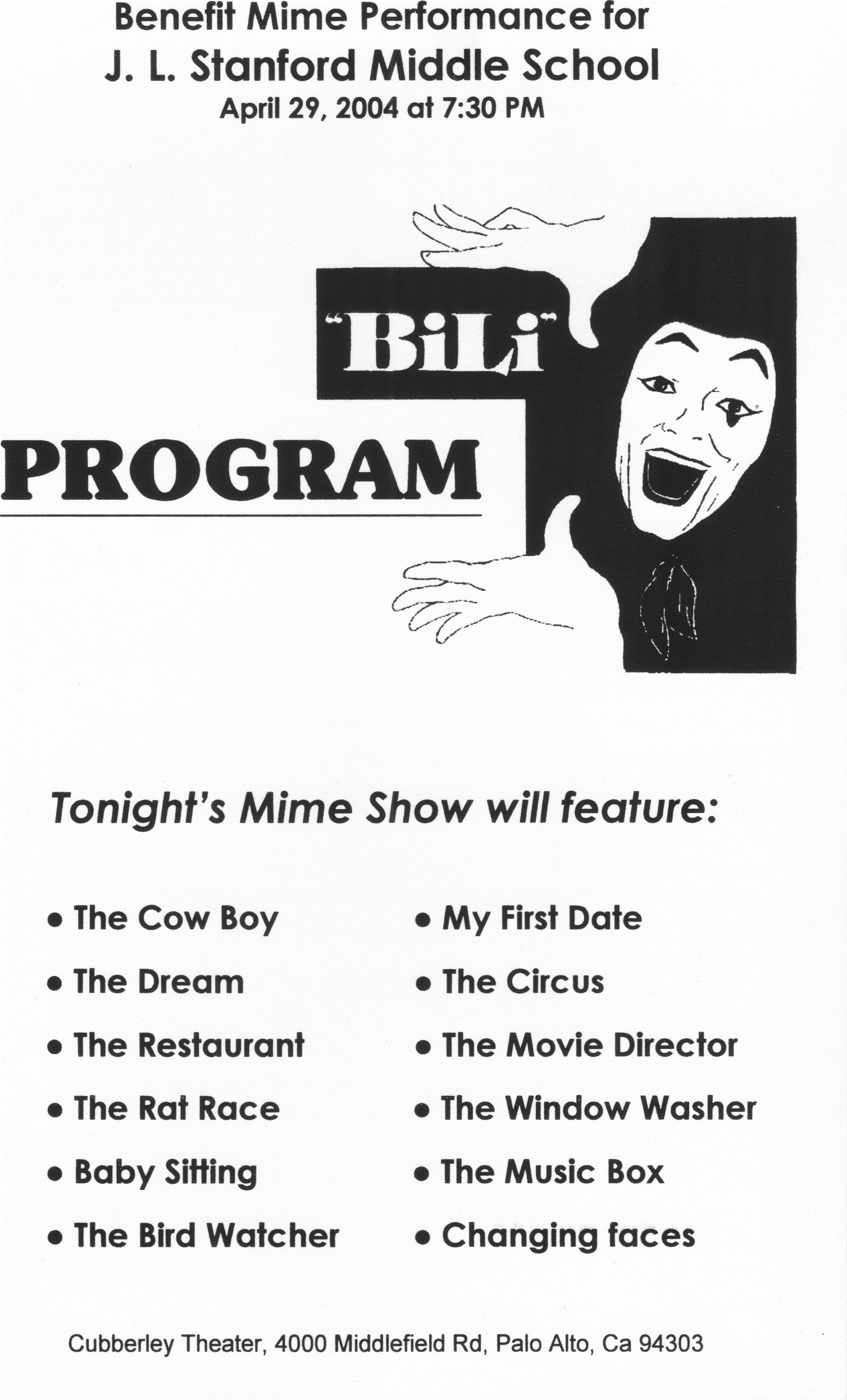 Palo Alto Weekly
April 12, 2004
 Also available at the following link
www.paweekly.com/weekly/morgue/2004/2004_04_23.mime23jd.shtml
Publication Date: Friday, April 23, 2004
The Silent Treatment
Mime Jeff Cabili proves actions speak louder than words
by Robyn Israel
Jeff Cabili loves languages. He knows how to converse in five different ways -- French (his native tongue), English, Spanish, Italian and Portuguese. Yet when it comes to expressing himself artistically, he is most comfortable not saying anything at all.
Cabili is a Palo Alto-based mime who loves this ancient art form, and is committed to sharing it with his community. Sadly, there are few opportunities to experience authentic mime performances in the Bay Area, but Cabili would like to change that. Next Thursday, he will perform a benefit at Cubberley Theatre, which will benefit J.L.Stanford Middle School. Cabili predicted that half of the audience will be seeing mime for the first time.
"This show is a way to revive mime in the Bay Area," he said. "I don't like to use the word 'educate,' because it's presumptuous, but I'd like to have people who've never experienced mime discover this art."
The one-man show will showcase Cabili's persona, Bili the Mime, whowill perform about 10 skits. Cabili was intentionally vague about the program's content, but did say that it would feature various characters and different stories.
"I call it an evening of entertainment, where there is surprise and magic," he said. Three of the skits will be new, while one has been in Cabili's repertoire for the last 25 years (it's a funny one).
"I don't want to create expectations," he said. 'I want people to enjoy themselves and have a good time. But I will do a little bit of the 'wall' -- they expect it."
Balinese and Venetian masks, as well as recorded music (guitar, harp and piano solos), lend added support, but in general Cabili eschews props, favoring traditional mime techniques instead.
"I prefer to pretend -- it's more difficult, but it's also more fun. And people seem to enjoy it more, seeing me create the presence of an object, whether it's a stool, a stair, a counter, a door or a wall."
When it comes to mime, Cabili is a passionate about the art form. He believes there is much more to performing than just putting on make-up, standing on a street corner and gesturing robotically.
"What makes it an art is the ability to communicate and convey a message that is clear in the minds of the spectators," he said. "Mime is all about creating an illusion -- doing certain body movements that suggest an action. The idea is to transport the spectators into the environment of the skit, whether it's a park where you see a dog barking, or a lake where a guy is fishing."
What separates the great mime artists from others is the economy of their movements, Cabili said.
"Marcel Marceau is so good and so subtle at expressing ideas with few gestures," he said. "It will take him two or three gestures, whereas other mimes will need five or six gestures."
Another essential quality, according to Cabili, is creativity: Howdoes a mime communicate a certain narrative?
"Let's say I'm a sweeper at a park who's watching all kinds of things: A nanny, a dog that barks, two lovers. ...How do I tell that story?"
Presence is the other ingredient that makes a great mime. In addition to Marceau, Cabili said that Charlie Chaplin, Buster Keaton and Jean-Louis Barrault had a certain je ne sais quoi that captivated audiences.
Cabili didn't discover mime until his mid-20s, when he saw a flyer advertising a class at Stanford. He decided to try it, but wasn't immediately attracted. "I saw all these people in the class doing gestures, and I was very self-conscious," he recalled. "I didn't want to look ridiculous, so I didn't participate."
After several classes, Cabili started to relax, and his teacher, Stella Filler, took note of his tremendous progress and encouraged his training. It wasn't long before Cabili was performing in Filler's troupe. By 1980, he was performing solo. He later taught classes at De Anza College and workshops at Mission and West Valley Colleges. He has also performed in France and Italy.
"Mime changed my life," recalled Cabili, who was working in high-tech when he started. "I felt that what I was doing made sense."
Cabili loved the challenges that this silent art form presented.
"I like it because it's hard," Cabili conceded. "A mime is an actor with a disability -- he doesn't have a voice, but he still has a message to convey. So it requires much more on your body, as far as your ability to be effective."
When Cabili first started studying mime in 1976, it was a respected art form, he said. Performers such as Shields and Yarnell were popular, he recalled. These were artists who were continuing a tradition that had begun in ancient Greece, when mime was used to tell war stories, and it had continued into the Middle Ages and beyond.
However, since the early '80s, mime has not received as much respect, Cabili said. "It's a pity, because people associate it with just those people standing on the street, who see it as a means of collecting money."
True mime is a rare occurrence today, according to Cabili, but he is doing what he can to revive the genre. He tried to teach a class at the Palo Alto Adult School, but did not receive the green light. However, he recently taught an eight-week workshop to students at Gunn High School. "They were extremely attentive," he said. "And after eight sessions, some had even mastered the walking and climbing-the-ladder techniques."
If Cabili can generate similar interest in his audience next Thursday, he will be pleased. "Mime for me is very poetic," he said. "It's the world of emotions, of laughter, of sadness. Mime has to touch your heart. It has to reach you deep inside." 
Who: Bili presents his one-man show. The 80-minute show (no intermission) is recommended for families with children 8 years or older. The performance will benefit J.L. Stanford Middle School. 
Where: Cubberley Theatre, 4000 Middlefield Road in Palo Alto 
When: Thursday, April 29 at 7:30 p.m. 
Cost: Tickets are $16 adults; $9 children. 
Info: Please call (650) 856-5188.
---
TV Interviews
Close-up Café
Host: Louise Pencavel
Recorded on June 23, 2004 at the Media Center, Palo Alto
Interview of BiLi to be aired late August 2004 on Channel 27 & 28, Palo Alto